It's been 10 years since Keeping Up With Kardashians first aired, and the contract has been renewed for another 5 years. And, if you are wondering what I'm talking about, you really are living under a rock, quite literally. If there's one person the Kardashian family has to thank, it is Kim Kardashian, who made a living out of being a socialite and got them all on-board. The show is probably worth a billion dollars, and each Kardashian is a multi-millionaire. Amongst a lot of other things, Kim and her sisters are known for their fashion statements and owning a clothing line called 'Dash.' Since Kim has an excellent fashion sense (and is our favorite), we decided to list out the best Kim Kardashian looks. Let's look at them!
In This Article
1. Her Yeezy Style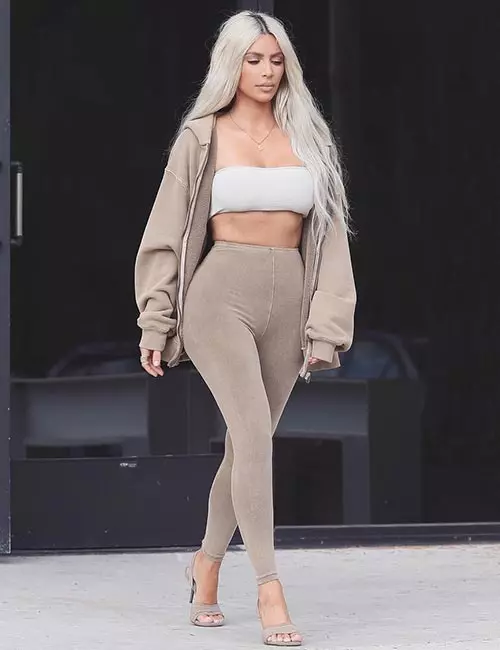 Nobody could have done a better job with the Yeezy style than the Wests themselves. She slays it totally, and we loved it when she paired the outfit with her platinum tresses.
2. In A Complete Black Outfit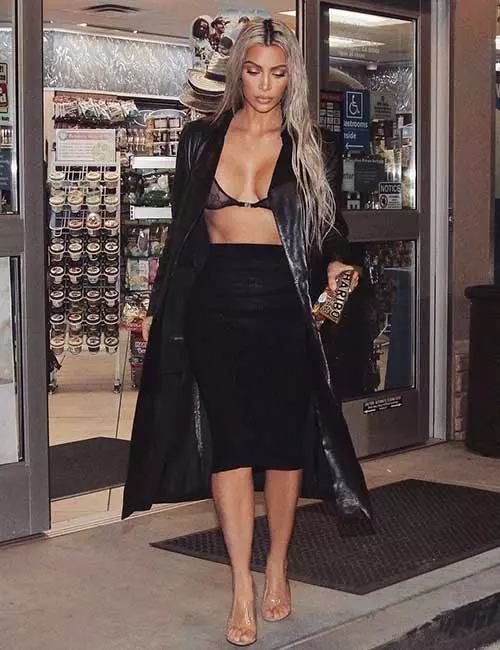 Kim Kardashian's idea of a monochrome outfit is a tad different than yours and mine. Clearly, that's why she is who she is. Anyway, Kim has been sporting different versions of this look, but one of her very first appearances in this getup is something we can never get over.
[ Read: 15 Best All Black Outfits That Will Inspire You ]
3. The Red Dress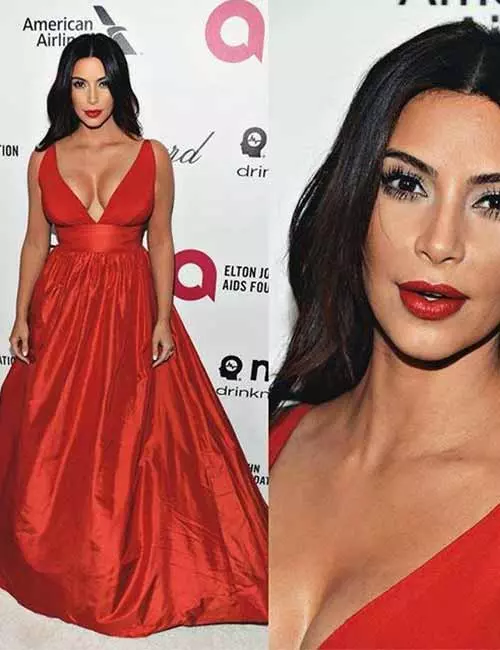 You do not see Kim doing dresses like these very often, but when she does she will be noticed, more like take the internet by storm. The fashion police, experts, and all of us collectively agree that this makes her look sizzling hot – keep them coming, Kim!
4. Balmain Outfit
Apparently, Kim Kardashian is Oliver Rousteing's muse, and he confessed it when he first spotted her in this Balmain dress, after her marriage with Kanye West. Well, we are not surprised Oliver was mesmerized by her style sense. Kim is captivating like that, look at that dress! Phew!
5. Complete White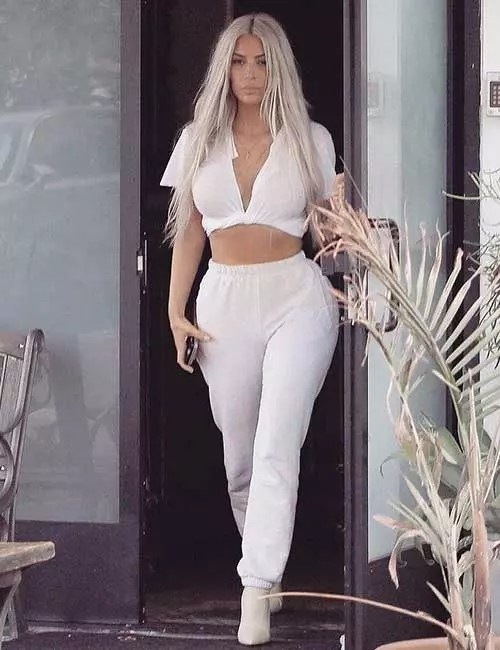 A complete white outfit in the truest sense. Who would have thought white trousers, a cropped blouse, white booties and white hair is what the world needed? Well, she taught us all how awesome it can look when put together.
6. The Sweater Dress
And sometimes, she makes us feel like she is one of us by sporting looks that we all love. She is wearing a sweater dress and knee high boots, which we have all been obsessing about anyway. But, of course, her body reminds us why she's such a bomb, giving us all some serious goals.
7. Pantsuit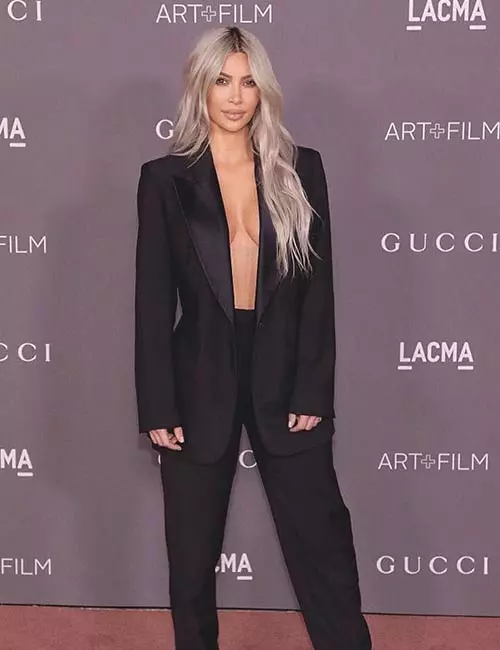 Oh, yeah! Pantsuits are back, and if this doesn't convince you – I do not know what else will. The Tom Ford black pantsuit she wore at a Gucci event had the shutterbugs go crazy. We can't blame them though.
8. The Red Carpet Dress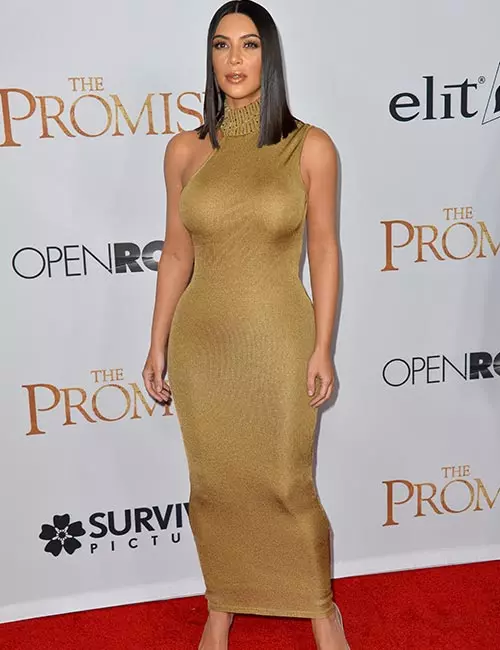 Kim's looks are pretty radical most of the times – especially how she plays around with color. While we think she has got a great hairstylist, let's also talk about the gold high neck dress she is flaunting and how she nailed it yet again.
9. Kim's Street Style
Well, it has been established that no one does street style better than our very own Kardashian, and she does it unapologetically so. In tights, crop top, denim jacket, and a no-makeup look – she sealed the deal just like every other time.
10. Bikini Body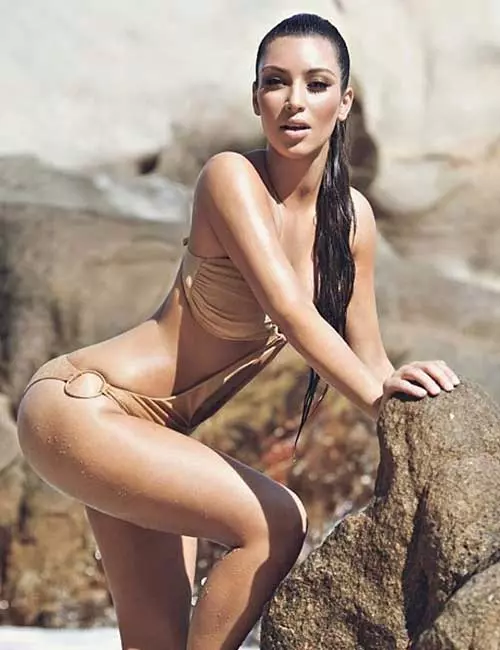 We love Kim's new look and how she's turning curvaceous with every passing day, but you know we'd probably trade anything to get the old Kim back. She was near perfection – with a body to die. This is some really hot swimwear we all can't wait to try.
11. Kim Kardashian's Wedding Outfit
Kanye's big proposal at the AT&T stadium, their passionate love story, and their wedding are what dreams are made of. Her Givenchy wedding dress that twirled into a perfect pirouette and trained even more perfectly gets us misty-eyed, even to this day.
[ Read: 15 Beautiful Wedding Guest Dress Ideas ]
12. Kim Kardashian's Pregnancy Style
While some criticized her for her weight gain (which just showed how cruel and mindless the internet could be), Kim totally ignored the haters and slew it with her pregnancy outfits. Bump fashion could not have been any more fashionable or couture.
13. Latex Dresses
The brand ambassador for latex dresses! Honestly, we didn't even know these could be so hot until we saw her sporting them. There's no stopping Kim when it comes to making breakthrough fashion statements.
14. No Makeup Look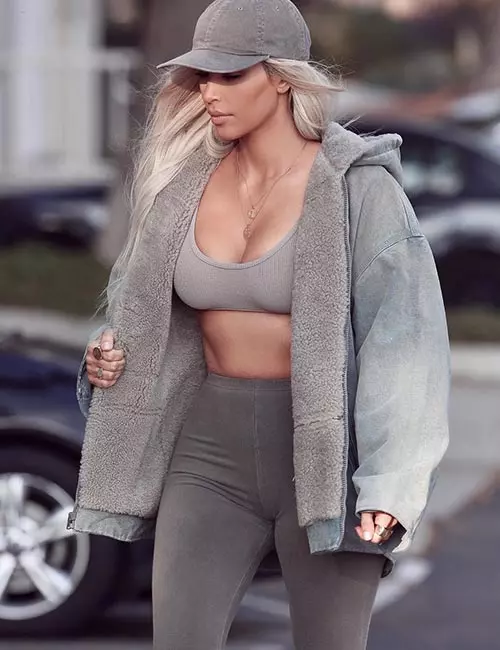 Her Yeezus outfits are easy, breezy, and chic – and go with the no makeup look she goes for. Thanks for showing us that a no makeup look is not going out of style.
15. Slip Dress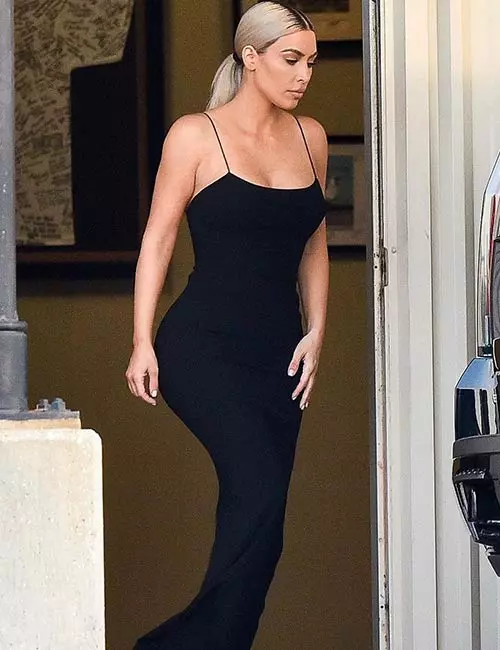 From slip dresses to Yeezus, red carpets to Balmain, street style to couture, and everything in between – no one in Beverly Hills can come close to doing it the way she does. She's also the mistress of slip dresses, amongst other things.
Kim Kardashian has made an empire out of her unique style statements. Anything she puts on becomes a new fashion trend. The world has its eyes on her because no one can pull off a style as Kim does. She is a brand of her own — you can never keep up with her! We hope you enjoyed looking through some of the most iconic Kim Kardashian looks we compiled for you in this article. Share them with your friends to start conversations about the glamourous world of Kim Kardashian.
Frequently Asked Questions
Who is Kim Kardashian's favorite designer?
Kim Kardashian has been a fashion muse for many famed designers. Her favorites include names like Manfresh Thierry Mugler, Olivier Rousteing, Riccardi Tisci, Tom Mark, LaQuan Smith, and Olgana Paris.
Is Kim Kardashian a fashion model?
Yes. Kim Kardashian started her career as a fashion model before moving on to television and business.
What kind of jeans does Kim Kardashian wear?
Kim Kardashian usually wears skinny jeans that flaunt her hourglass body shape.
Does Kim Kardashian ever wear the same clothes?
Yes. Kim Kardashian has been seen repeating her outfits quite often.
Banner Image Credits: Instagram
Related
The following two tabs change content below.
Pratima Ati
After working in Marketing and Business Development for a few years, Pratima Ati jumped ship to pursue two things she… more
LATEST ARTICLES
Traditional Indian Dresses That Every Girl Can Wear
Traditional Indian Dresses That Every Girl Can Wear
20 Latest Salwar Kameez Suit Design Patterns For Women: 2022
20 Latest Salwar Kameez Suit Design Patterns For Women: 2022
What Colors Go With Brown? Tips And Outfit Ideas
What Colors Go With Brown? Tips And Outfit Ideas
8 Different Types Of Socks – Guidelines On How To Wear Them
8 Different Types Of Socks – Guidelines On How To Wear Them
How To Measure Shoe Size – A Perfect Guide With Sizing Chart
How To Measure Shoe Size – A Perfect Guide With Sizing Chart
20 Best Ways To Wear Joggers To Look Stylish
20 Best Ways To Wear Joggers To Look Stylish
9 Best Places To Donate Clothes And Do A Good Deed
9 Best Places To Donate Clothes And Do A Good Deed
How To Wear A Saree In Different Ways To Look Slim And Tall
How To Wear A Saree In Different Ways To Look Slim And Tall
20 Gorgeous Party Wear Saree Designs With Blouses For Women
20 Gorgeous Party Wear Saree Designs With Blouses For Women