Anxiety and stress have become a common occurrence in our lives as we struggle to stay afloat in this highly competitive world. Luckily, all it takes is a few yoga poses to alleviate anxiety. You must squeeze in some time, preferably in the morning, to perform them every day no matter how busy you are. After all, you are doing this for your mental and physical well-being. In this article, we guide you through the 10 most effective yoga poses that relieve you of anxiety. Take a look!
In This Article
What Is Anxiety?
Generally speaking, anxiety is a disorder that instigates fear, worry, apprehension, and nervousness.
These emotions further affect how we behave, and if prolonged, they can also affect us physically. Anxiety is unsettling, and while mild symptoms may not have serious repercussions, severe anxiety can have a major impact on our everyday lives.
People can be in a general state of worry when they face a challenge. This is normal. It becomes a concern when the worry interferes with your sleep or daily activities. Anxiety occurs when your reaction is out of proportion to what is usually expected when you face a situation.
How Does Yoga Help Alleviate Anxiety?
Yoga allows us to breathe and move, activating the parasympathetic nervous system to relax the body and mind. During yoga, the body releases tension and allows the muscles to relax. The activation of the parasympathetic nervous system also helps release endorphins, otherwise knows as happy hormones. Practicing yoga asanas or Pranayama breathing can help to relieve stress and anxiety. Here are some easy poses that you can begin with.
Top 10 Poses In Yoga For Anxiety And Stress Relief
Ustrasana
Setu Bandhasana
Baddha Konasana
Paschimottanasana
Dandasana
Utthita Trikonasana
Marjariasana
Balasana
Dhanurasana
Shavasana
1. Ustrasana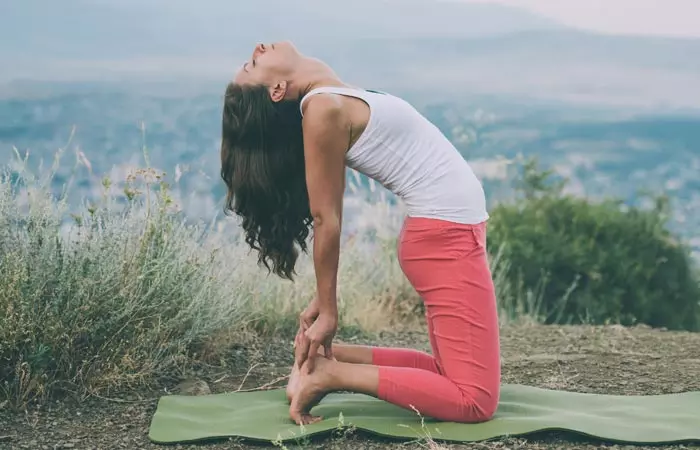 Ustrasana can release stress and enhance circulation throughout your body. Proper blood circulation means more oxygen, which helps to heal the mind and body.
2. Setu Bandhasana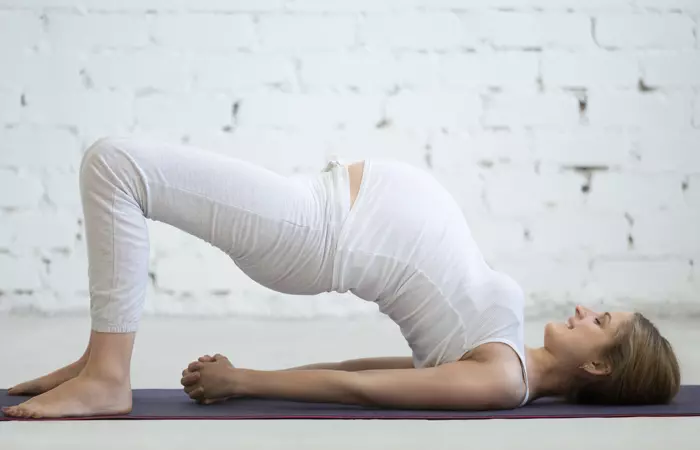 Just like the Ustrasana, this asana also enables better blood circulation throughout the body. The front of the spine and heart open, helping to calm the mind and reduce stress. Backbends, in general, can also be very energizing!
To know more about this asana, click here: Complete Guide To Setu Bandhasana
3. Baddha Konasana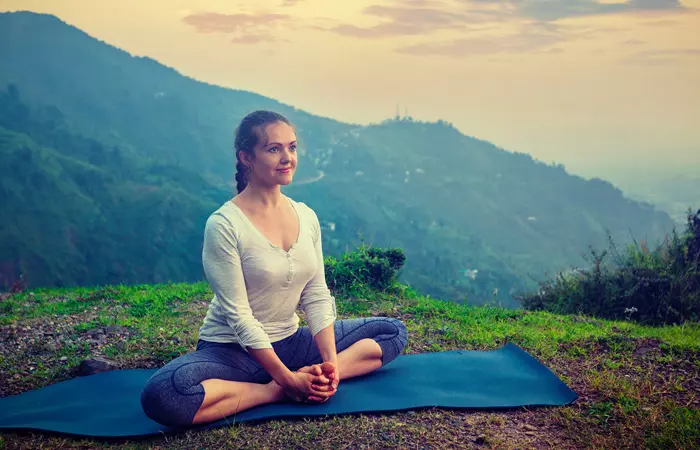 This basic yoga posture stretches the inner thighs and groin. Keeping the spine straight while letting the thighs relax can help release tension in the hips, groin, and back.
To know more about this asana, click here: Complete Guide To Baddha Konasana
4. Paschimottanasana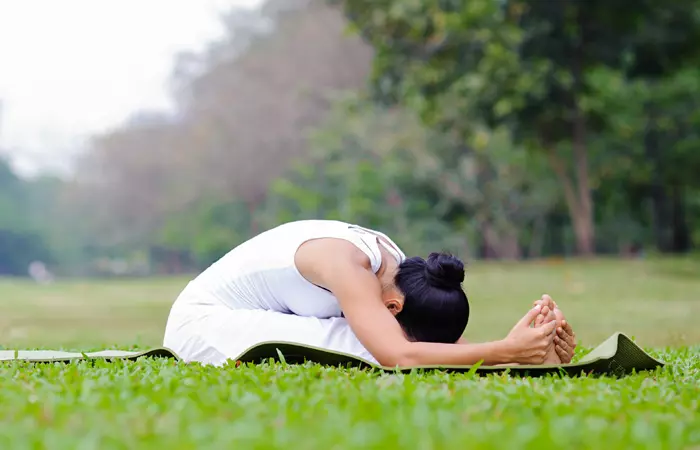 This seated forward bend helps to open the back of the legs and spine. Take deep breaths in this asana (and all asanas!) to calm the mind and open the body.
To know more about this asana, click here: Complete Guide To Paschimottanasana
5. Dandasana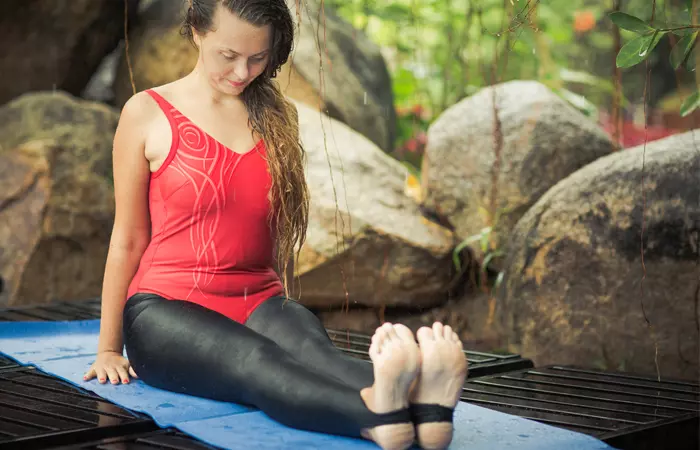 This asana helps to develop core strength. It may appear easy, but can be very stimulating as your breath and engage the core to keep an upright spine. Once the posture is released, the spine relaxes, and stress is released. Practice this basic asana to relieve anxiety.
To know more about this asana, click here: Complete Guide To Dandasana
6. Utthita Trikonasana
This asana has an interesting feature – the opposition of force. This feature balances two opposing energies and helps find a synergy between them. The twist and stretch that it involves help to open the spine and release anxiety.
7. Marjariasana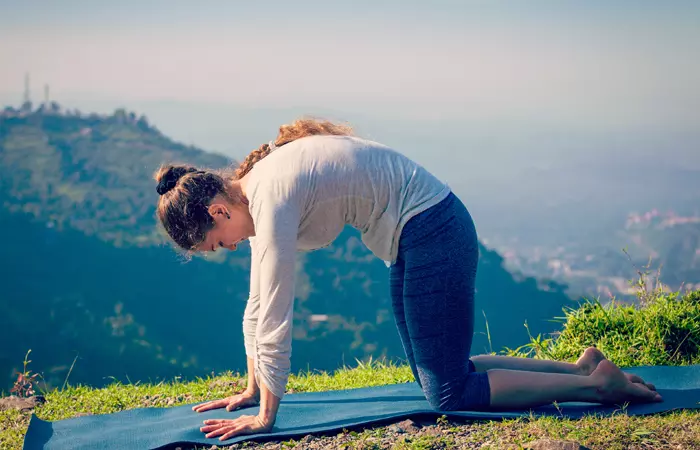 Also called Cat/Cow Pose, this asana loosens the spine. This simple asana can improve flexibility and circulation in the spine and relax the mind.
8. Balasana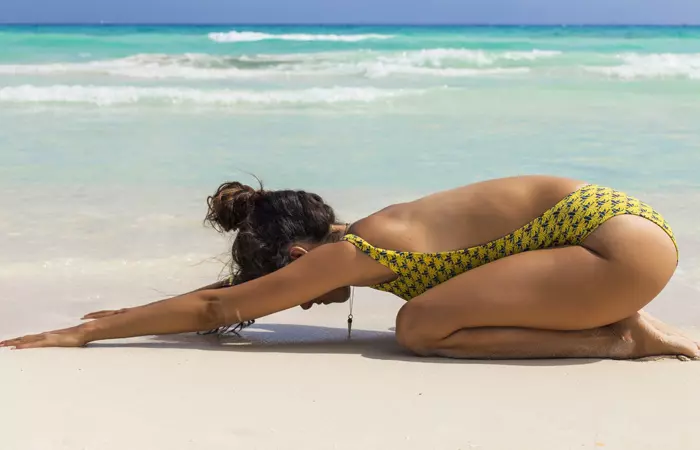 Balasana is a restorative, calming pose that relaxes and rejuvenates the body. The stretch in the back relaxes the spinal column. It soothes the muscles and may alleviate pain in back, neck, and shoulders. This posture also opens the tendons, muscles, and joints of the knee. The pose resembles a fetal position and is said to provide physical, mental, and emotional solace to the being.
This pose can promote positivity and calmness.
To know more about this asana, click here: Complete Guide To Balasana
9. Dhanurasana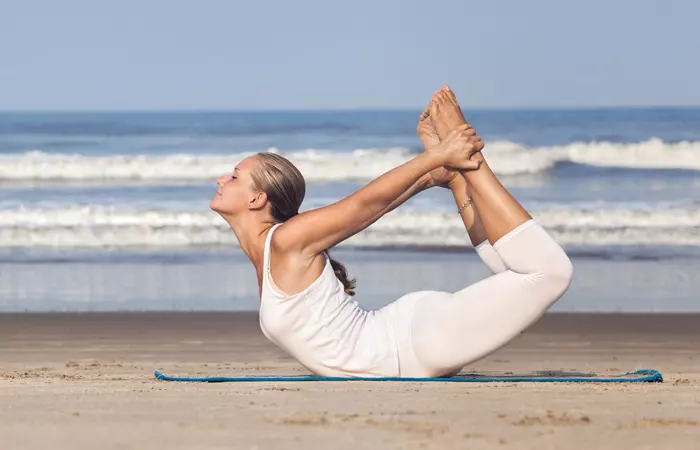 This asana expands and opens the shoulders, chest, and neck. It makes the abdominal muscles and back strong, strengthening the core.
To know more about this asana, click here: Complete Guide To Dhanurasana
10. Shavasana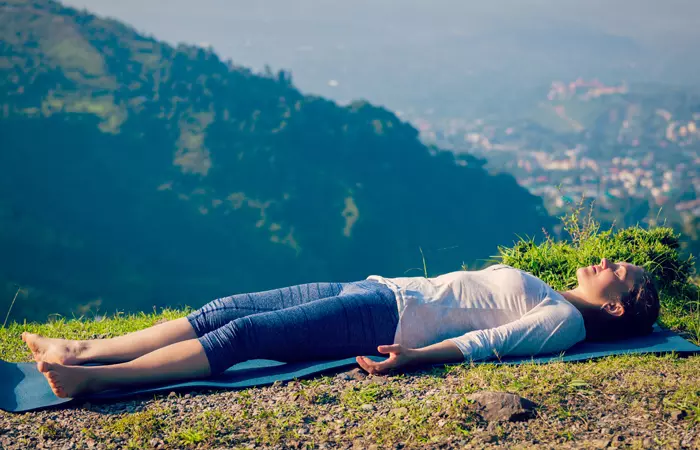 Shavasana is one of the best yoga poses to alleviate anxiety and depression. Shavasana allows ultimate relaxation of your body and mind. After a strenuous workout that involves stretching, twisting, contracting, and inverting of muscles, Shavasana allows your body to rest and recharge. Even the most neglected muscles will get some time to let go of their stress in simply 5-10 minutes of Shavasana.
Yoga furnishes the nervous system with lots of neuromuscular information. Shavasana helps the nervous system integrate this information and relax the mind before jumping into the day.
To know more about this asana, click here: Complete Guide To Shavasana
There is probably nothing yoga cannot do, including treating anxiety and depression. Practicing yoga or pranayama (breathing exercise) aids in the release of happy hormones in the body, relieving anxiety and stress. These 10 yoga poses to relieve anxiety also help improve blood and oxygen circulation throughout the body, calm the mind, release tension in the body, develop core strength, and improve spine flexibility, besides giving mental, physical, and emotional relief to the individual. So, spread your yoga mat and get ready to rejuvenate your body and mind.
Subscribe
Frequently Asked Questions
Is Kapalbhati good for anxiety?
Yes. Kapalbhati may support overall mental health and reduce stress and anxiety (1).
Can Anulom Vilom cure anxiety?
Anulom Vilom plays an essential role in maintaining overall mental health (1). It may help you manage anxiety to an extent. However, you must consult a therapist if you have severe anxiety.
2 Sources
Articles on StyleCraze are backed by verified information from peer-reviewed and academic research papers, reputed organizations, research institutions, and medical associations to ensure accuracy and relevance. Read our editorial policy to learn more.
Role of Bhastrika
Kapalbhati and Anulom Vilom Pranayam in Mental Health