Whether they are painful cosmetic procedures like a facelift, breast implants, or a simple Botox treatment, stars have been going under the needle for years now. Celebrity nose jobs are arguably one of the most common cosmetic procedures, and many have spoken about their nose job experiences. As audiences, we only see their glamorous lives. But we are mostly unaware that celebrities undergo some major cosmetic procedures to look good in front of the camera. Keep reading to find out more about celebrity nose jobs.
Celebrity Plastic Surgery Transformations
We have a list of 25 A-list Bollywood and Hollywood celebrities who have made some sort of tweaks to their natural features and have gone under the knife in a bid to look perfect. Some of these are flawless and unerring, but a few have gone awfully wrong. Let's take a look!
Bollywood Actresses Before And After Plastic Surgery
1. Priyanka Chopra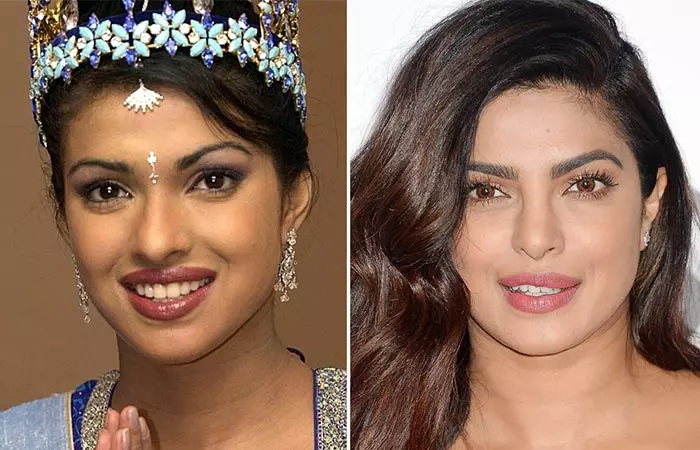 One of the most popular Bollywood actresses who has now made her mark even in Hollywood and the former Miss World has transformed from 'the-girl-next-door' into the 'hottest diva' of B-town. Over the years, she has undergone a whole lot of surgeries from her nose to her lips, and it has turned out to be marvelous for her career. She has never accepted undergoing any surgery as such, but she also hasn't rejected making use of other enhancements such as injections, lip fillers, and other treatments.
2. Anushka Sharma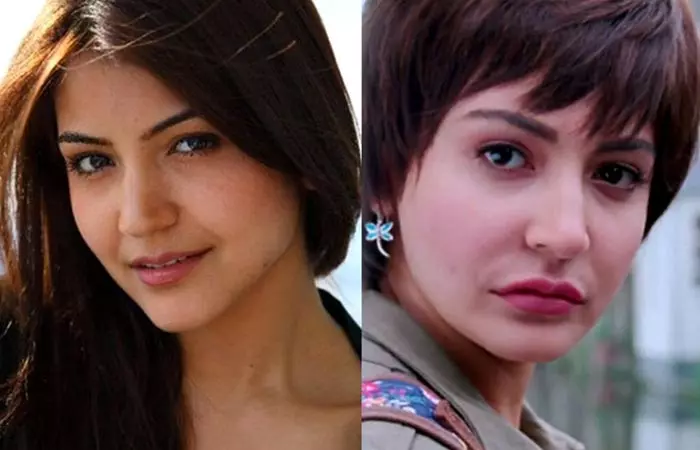 Anushka Sharma became a victim of controversy over her new lips. Her plumpy lip pout became an "issue of concern" for common people, but she gracefully and openly accepted that her fuller lips were, in fact, a result of a lip enhancing tool. She also wanted her fans to know that she's only human and not perfect. However, Anushka Sharma has always been pretty and has had a rather successful career, and this did not make any significant difference to her career-wise. We appreciate the honesty!
3.Vaani Kapoor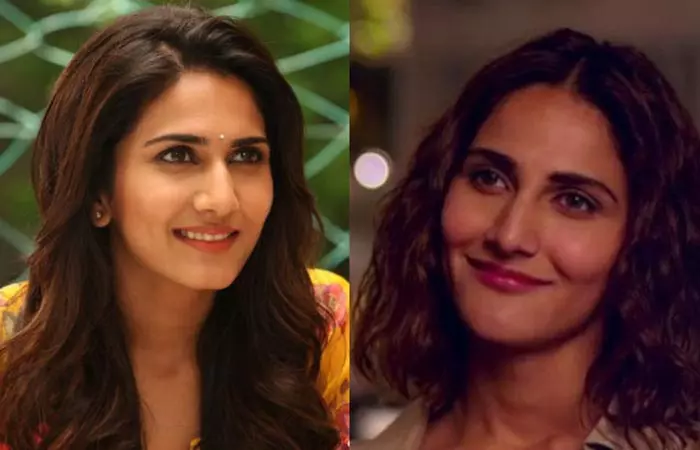 The 'Shuddh Desi Romance' actress caught everyone's attention after the trailer of her most recent film 'Befikre' came out in 2016. She seemed to have joined the cosmetic surgery bandwagon with a whole lot of change in her chin, lips and her face structure. There was something soft and real about her natural look before this big change was made, but Vaani Kapoor did not seem to accept the supposed "rumors", saying she owed all the changes to her tremendous weight loss and asked the audience to reason with her change.
4. Shruti Hassan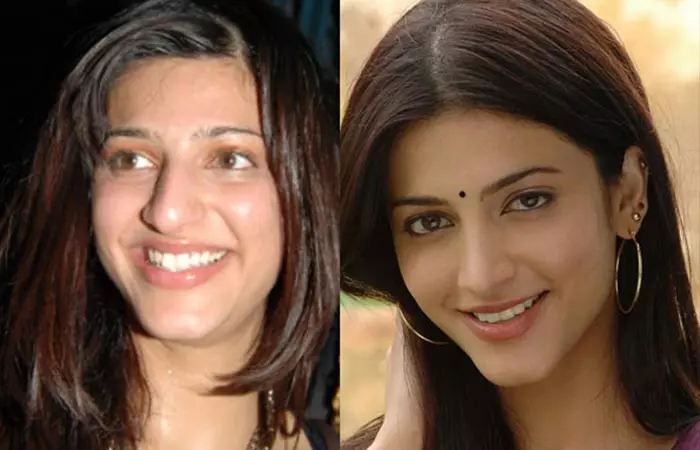 The gorgeous actress has been very open about undergoing a nose surgery; however, Shruti hasan clarifies that it was for medical reasons as she had trouble breathing. She had a common disorder involving a deviating septum, and she revealed on Big CBS Love's show India's Glam Diva that she went through a septoplasty. She was also rumored to have gotten a lip job, but Shruti rubbished the rumors saying what she does with her body is her own business and that she is not answerable to the trolls. That's the way to go, girl!
5. Sridevi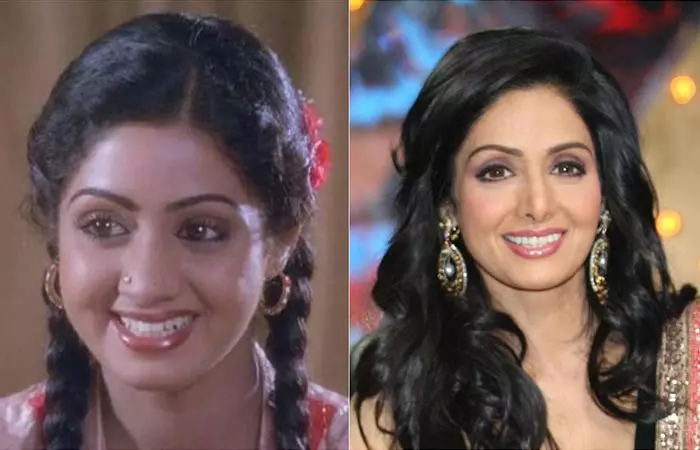 The yesteryear actress looks way younger than her real age owing to the many plastic surgeries that she underwent with varying results. Although Sri devi fans consider her to be an evergreen beauty since her flicks like Chandni and Naagin, the actress has had a very evident nose job and botox besides the face-lifting and body-tucking procedure. Sri Devi slammed these allegations saying that women over 40 should look after themselves and do what makes them desirable.
6. Shilpa Shetty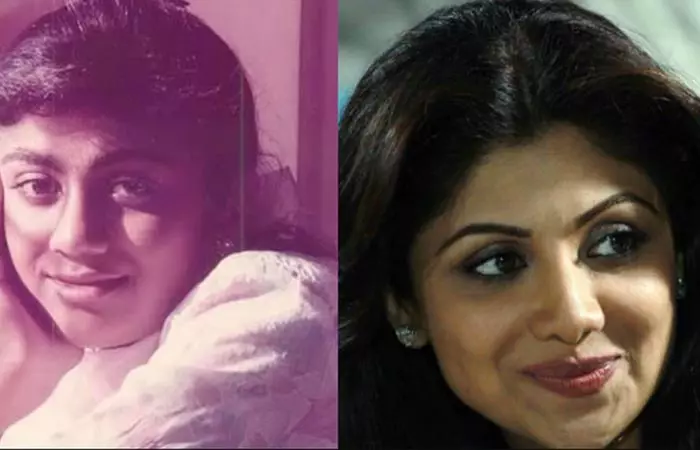 The Big Brother winner is one of India's most famous and high-profile celebrities. Even though Shilpa Shetty is in her 40s, the actress has maintained herself and her incredibly toned body. She underwent two nose jobs that not only did wonders for her looks but also for her career. She has been open about it and says that it's no big deal. Her sharp nose now balances out her features perfectly!
7. Aishwarya Rai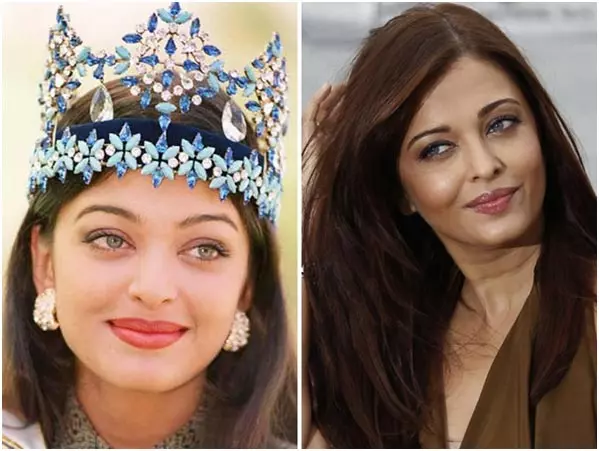 The former Miss World who's considered to be among the most beautiful women in the world was in the thick of controversy regarding her undergoing plastic surgery procedures. Reports suggested that she had lip fillers, facial fillers, a nose job and cheek implants done. There is a whole lot of difference in her appearance since she initially started her career and in her present look. However, the actress has never publicly admitted to going under the knife. We can't stop admiring her gorgeousness despite all the speculation.
8. Nargis Fakhri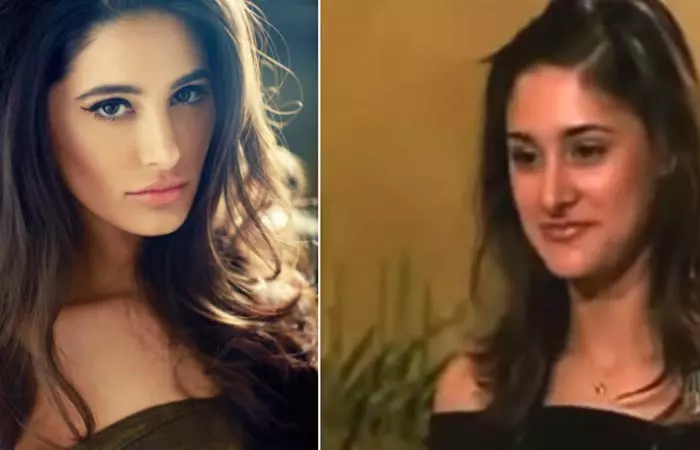 Nargis Fakhri used to be a contestant on America's Top Model, and gradually she made her way into Bollywood with the romantic drama 'Rockstar' in 2011. During her younger years, the actress and model had thinner lips. She now has a mouth looking poutier than ever, and some feel that she has taken the duck-face trend a little too far. There is a remarkable change in her appearance, but she does look fabulous.
9. Aditi Rao Hydari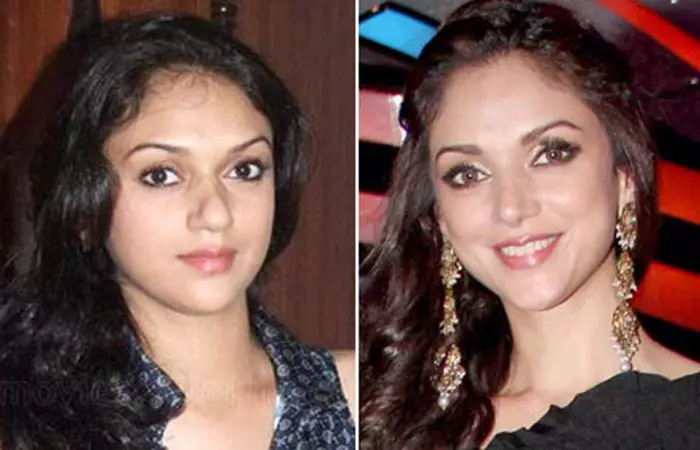 She may not be as popular as her Bollywood contemporaries, but Aditi Rao Hydari is sure as hell stunning. She underwent a nose job, and now her nose looks thinner and straighter. It has added refinement and definition to her face. However, we believe it's still early to decide whether this move to tweak her features helped her career in any way.
10. Katrina Kaif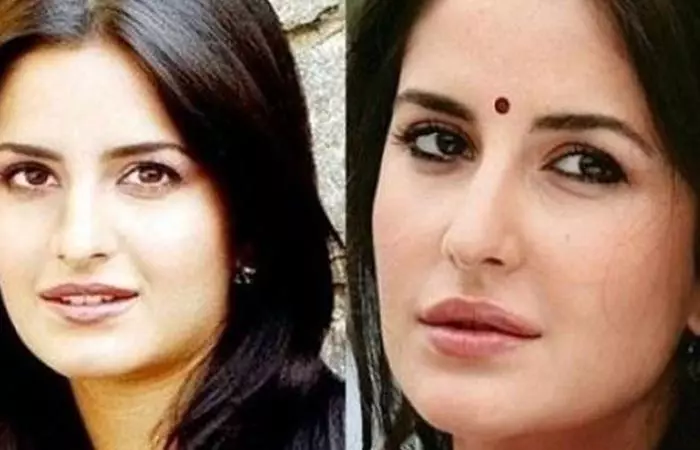 Katrina Kaif is one of the most popular celebrities in India, and she has been subjected to several plastic surgery rumors, although she has never publicly admitted to getting anything done. However, if you compare her initial pictures with the recent ones, you will see a significant change in her appearance. The most common speculations include her possible nose job and the use of cheek and lip fillers.
11. Kangana Ranaut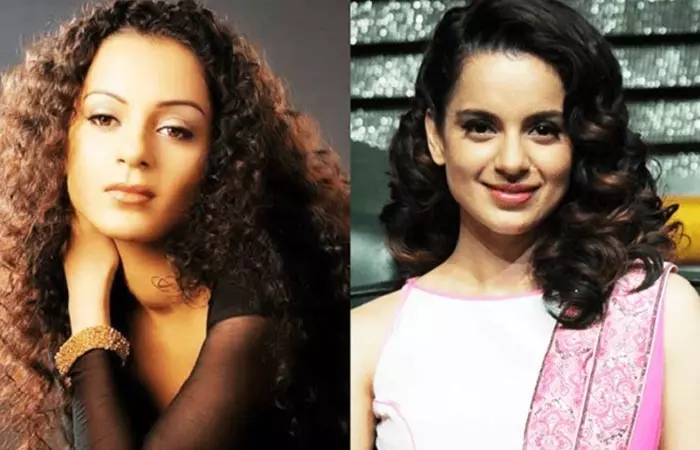 The 'queen of controversy' – Kangana Ranaut seems to have changed tremendously since her debut in the Bollywood film 'Gangster.' Her lips now look fuller, and her face looks more lifted than before. She denied the rumors saying her pout was the result of an allergy to shellfish which caused a reaction. However, the actress does not need to resort to surgeries to be a success in Bollywood. She has incredible talent and acting skills that have helped her get to the top!
Subscribe
12. Preity Zinta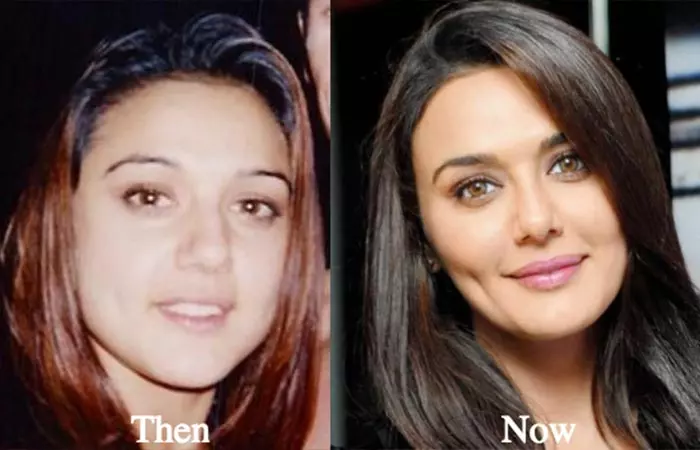 The bubbly actress of B-town who is now 42 seems to have undergone a botox surgery and cheek fillers. Although she denies having any cosmetic alterations done, there's an evident change in her initial pictures and the present ones, and it suggests that she went in for several corrective procedures. Despite any of it, there's no way; one can dislike Preity – she's just too adorable an actress who has given us some truly memorable films.
13. Jhanvi Kapoor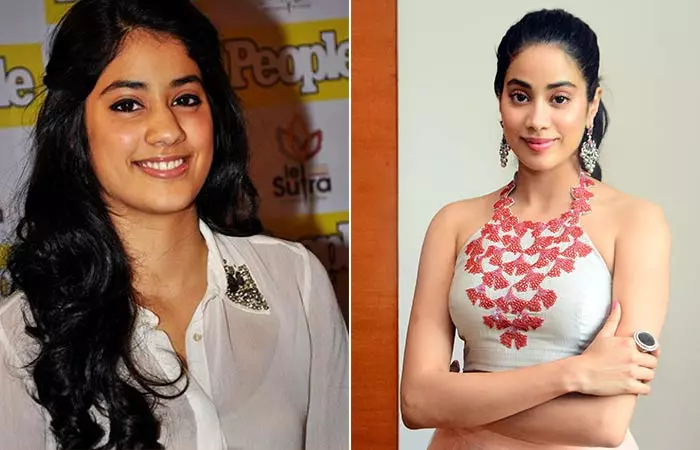 The word on the street is that Dhadhak actress, Jhanvi Kapoor, got her nose, lips, and jawline done in different surgeries. Jhanvi had a broad nose, which is now much sharper and slimmer owing to a rhinoplasty that did wonders for her. She is also said to have gotten a lip job that made her pout fuller. Finally, if you look closely, you will notice that she has also fixed her jawline to make it look more chiseled and angular.
14. Karisma Kapoor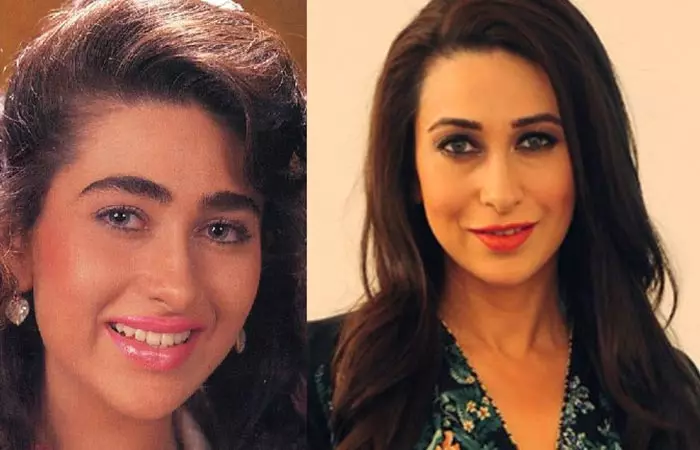 She still stands to be one of the most gorgeous actresses in Bollywood and belongs to one of the most prestigious families in the industry. This beauty did not need any tweaks to her already stunning features but she went ahead to get a nose job and a lip surgery to enhance her appearance. However, the Kapoors are blessed with good genes, and Karisma is no less!
15. Bipasha Basu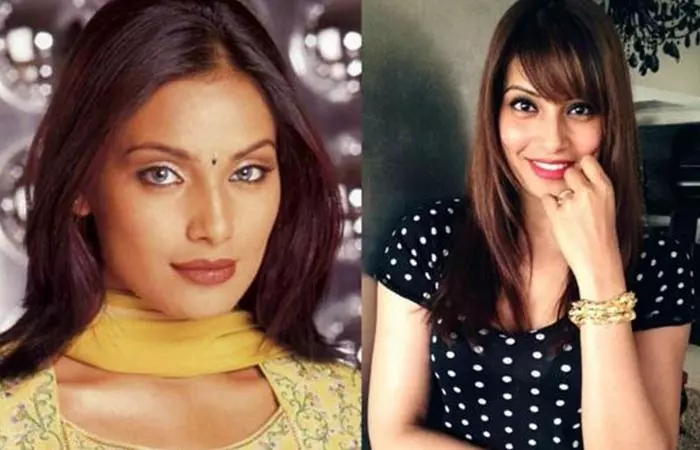 The Bengali beauty is rumored to have undergone several cosmetic procedures like a botox and a nose job. Her features now look more sharp and defined and the dusky beauty looks more glamorous than ever. The actress has not publicly accepted her going under the knife but girl, it's more than obvious! Besides, you needn't be ashamed of your personal choices.
Hollywood Celebrities Before And After Plastic Surgery
We all know that Hollywood is obsessed with plastic surgery and these are some of the most popular celebrities who got work done on themselves.
16. Kylie Jenner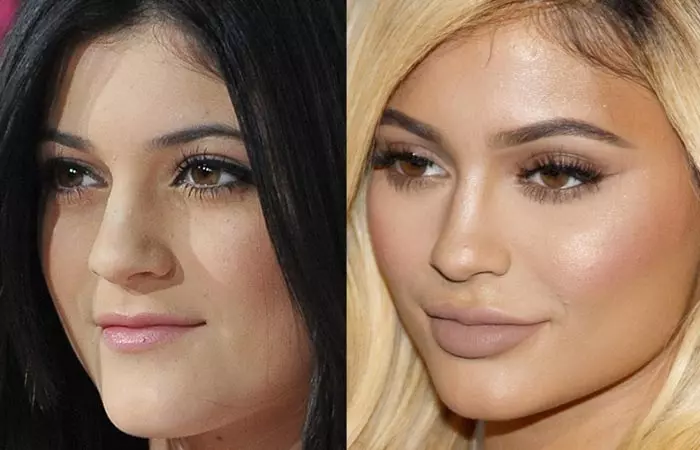 Kylie Jenner is one woman who doesn't look enough like Kylie Jenner. Her cosmetic surgeries have transformed her into a new person. She has taken the duck-face pout to a whole different level, and now she has a fuller mouth owin g to "super natural" lip injections and fillers. Her new and improved pout has launched her billion dollar beauty empire, and all odds seem to be in her favor.
17. Megan Fox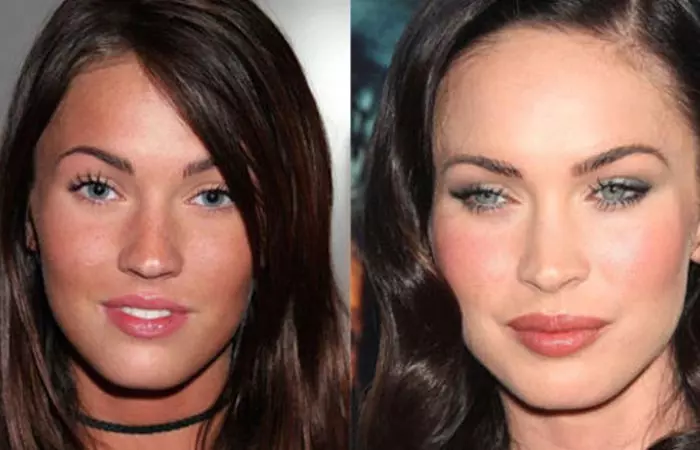 The Transformers star has gone through an incredible beauty transformation throughout her career. Initially, Megan looked like a slightly plain Jane version of herself, but now she has an exaggeratedly sexy vibe about her facial features. She is currently considered to be one of the hottest women in the world, and her career seems to be booming, just as well!
18. Lindsay Lohan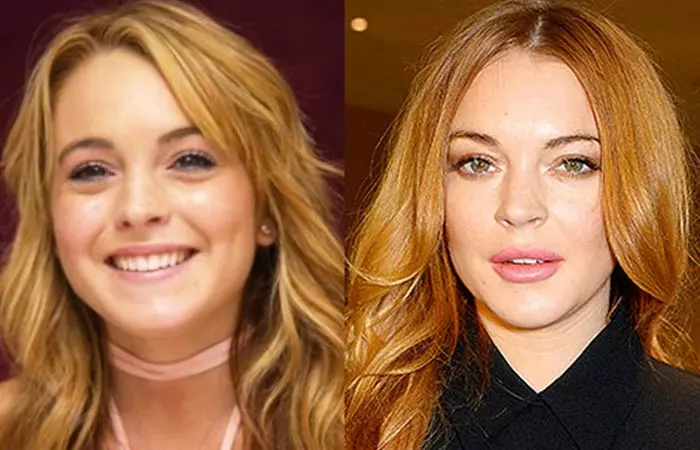 Lindsay Lohan is one actress who's plastic surgery was a disaster. She has gone under the knife on more than a couple of occasions especially after she went through her traumatic drug phase. Her career has been very successful ever since she was a child artist in Hollywood. Now, at 31, Lohan looks like she's older than her age despite all the botox and other cosmetic surgeries that she has undergone.
19. Angelina Jolie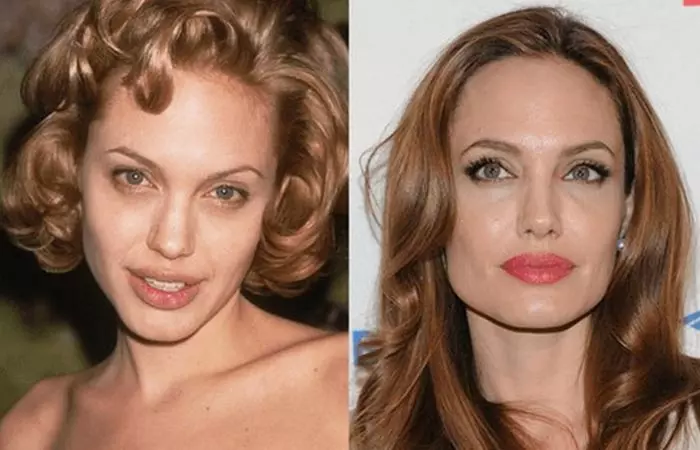 The iconic beauty and 'Girl, Interrupted' star, Angelina Jolie had both great genes and a great plastic surgeon to further enhance her already beautiful face. Her nose job involved reducing the sizes of her tip cartilages which made it smaller. But we can't deny the fact that Jolie has always been gorgeous. Go back to her 16-year-old pictures, if you're looking for proof!
20. Jennifer Aniston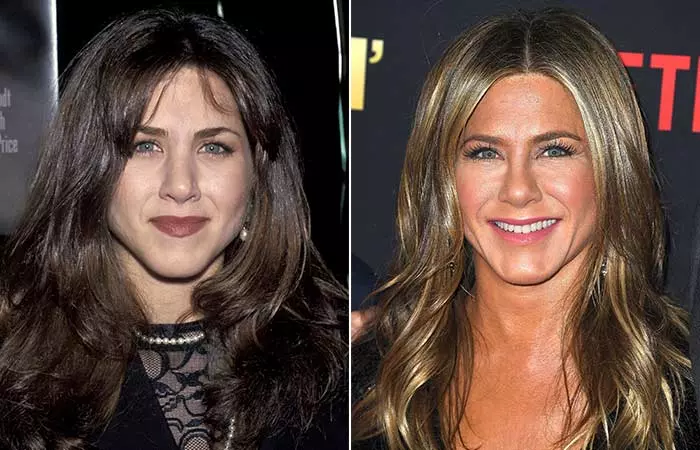 The leading lady of the famous TV show Friends hasn't had much work done and yet she still looks like the 'Rachel Green' we remember from back in the day. Aniston has had work done for her deviated septum. "I had a deviated septum fixed – best thing I ever did," she told People Magazine in 2007. "I slept like a baby for the first time in years. As far as all the other rumors, as boring as it sounds, it's still mine. All of it. Still mine."
Well, either way, she seems to have defied time with her timeless beauty.
21. Courteney Cox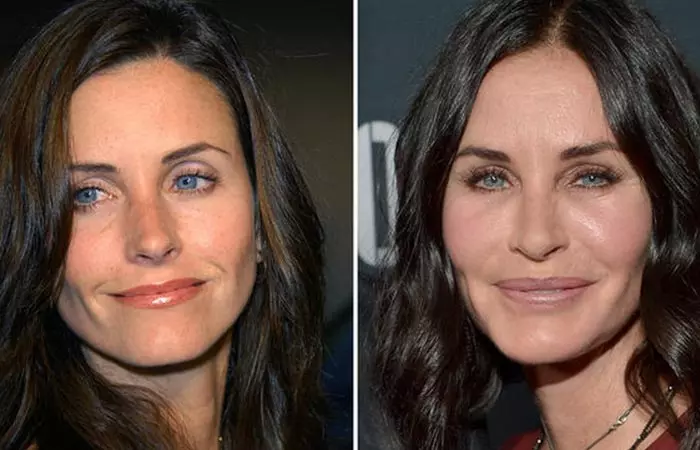 We've all seen her on television for over a decade on the famous sitcom 'F.R.I.E.N.D.S' as Monica Gellar, and we know how gorgeous she used to be. She is now unrecognizable, and she looks rather made up. The 51-year-old Courteney has admitted to having botox done, and she also regrets her decision very much.
22. Nicole Kidman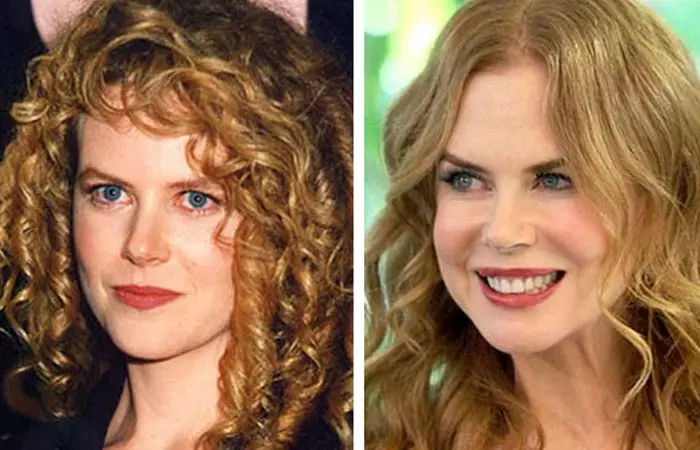 The Oscar-winning actress has evidently undergone plastic surgery, and plastic surgeons have called her the "Poster Child of Botox." Her features have completely transformed, and she now looks very different. However, Kidman has always been very open about trying a multitude of things to maintain her youthful appearance.
23. Pamela Anderson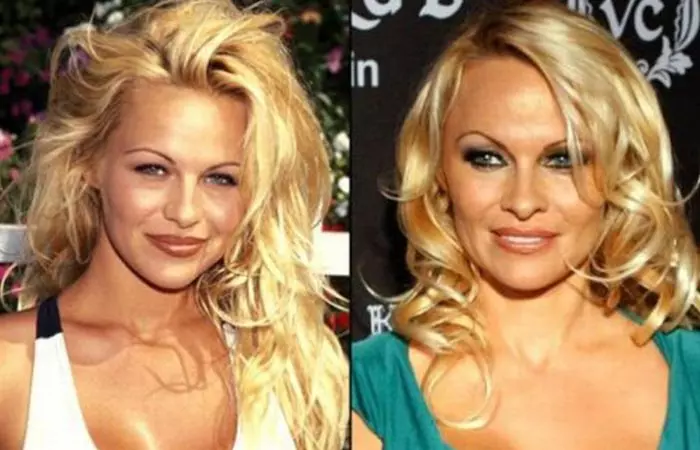 The once-upon-a-time stunning Baywatch beauty Pamela Anderson is unrecognizable with her new face. She has gone under the knife way too many times and went straight from being sexy to scary! She now has lip fillers as well as facial fillers in her cheeks. She also had botox and breast implants besides all the other jazz and destroyed her beautiful natural features.
24. Joan Rivers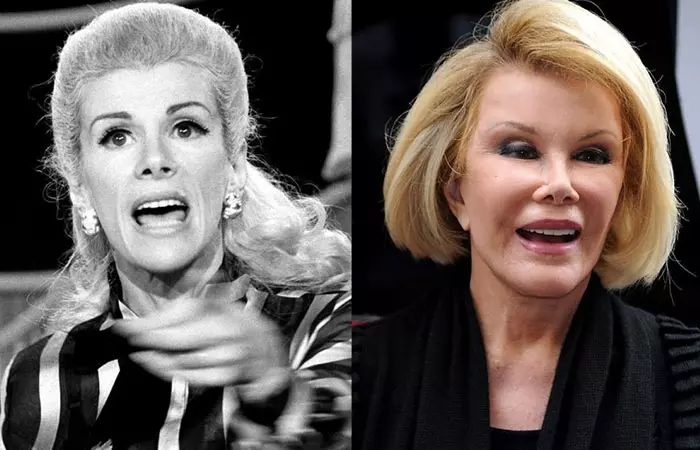 Joan Rivers was one Hollywood celebrity who went all in when it came to plastic surgery. After her death, Rivers' daughter revealed that her mother had a staggering 348 operations over her life of 81 years and was never satisfied with the way she looked. We can all agree she looked far better in the initial stages of her career. Hers was a plastic surgery disaster, and it just emphasizes how crucial it is to love your natural self.
25. Keira Knightley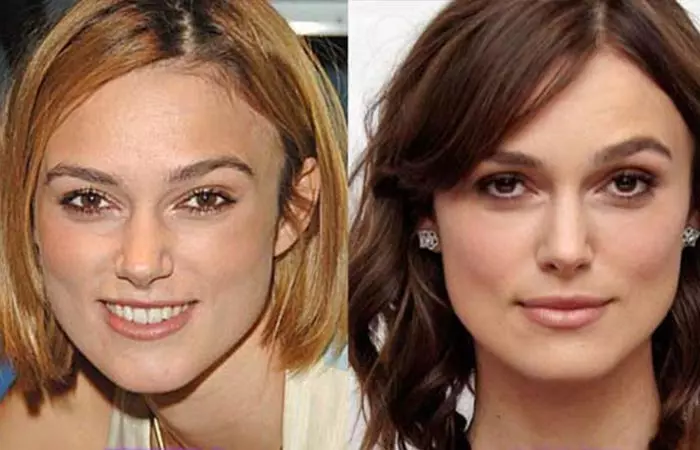 The British beauty and the rumors of her plastic surgery became a great debate among her fans all over. She had a nose job which reduced the angle and bridge size of her nose. However, Keira still looks very natural. She has never openly admitted having gone under the knife !
Celebrity nose jobs are always the talk of the town. They are one of the most common cosmetic procedures. Many of them are successful, but a few of these cosmetic procedures may go wrong and negatively affect these celebrities' appearances and even their career. We can find celebrities from Bollywood and Hollywood who opted for these cosmetic procedures. Priyanka Chopra, Shilpa Shetty, Kylie Jenner, Megan Fox, and Pamela Anderson are a few well-known faces of the film industry who opted for plastic surgery to enhance their looks. Although they look stunning, many people feel that they have lost their natural look with these procedures.
Frequently Asked Questions
Does a rhinoplasty last forever?
Yes, the results of a rhinoplasty are permanent. That is why you need to choose a qualified cosmetic surgeon whom you can trust to deliver the desired results.
Do nose jobs age well?
This depends on many factors, such as the thickness of the skin on your nose, trauma to the face, your genetics, the technique used for the surgery, and the surgeon's skill level. Some people's noses have been known to "collapse" 10-20 years after the surgery because of the bone and cartilage removed. That is why choosing an experienced and skilled surgeon is key.
Related
The following two tabs change content below.
Esha Saxena
Esha Saxena is a writer and journalist and holds a master's degree in media and mass communication. She firmly believes… more
LATEST ARTICLES
Shilpa Shetty's Makeup And Beauty Secrets Revealed
Shilpa Shetty's Makeup And Beauty Secrets Revealed
10 Most Powerful Indian Business Women
10 Most Powerful Indian Business Women
15 Most Famous Female Sports Celebrities In India
15 Most Famous Female Sports Celebrities In India
Sofia Vergara's Beauty & Fitness Secrets REVEALED!
Sofia Vergara's Beauty & Fitness Secrets REVEALED!
Revealed! Aishwarya Rai's Weight Loss Success Secrets That You Can Follow
Revealed! Aishwarya Rai's Weight Loss Success Secrets That You Can Follow
Top 10 Celebrity Kids In India
Top 10 Celebrity Kids In India
List Of The Top 10 Celebrity Beauty Salons In India
List Of The Top 10 Celebrity Beauty Salons In India
Aishwarya Rai's Beauty Tips And Secrets Revealed
Aishwarya Rai's Beauty Tips And Secrets Revealed
35 Most Beautiful Black Female Celebrities
35 Most Beautiful Black Female Celebrities