There is no denying that leggings are super famous for obvious reasons. They go well with literally any piece of clothing. But when it comes to figuring out what shoes to wear with leggings, we tend to get a bit confused. Not to worry, as it is okay to be confused because picking the right shoes to team with leggings is trickier than selecting footwear that goes with jeans or other pants. To get you rid of your confusion, we are going to tell you what goes with these timeless bottom wears and how to rock them. So, go ahead and give this article a read.
Best Shoes To Wear With Leggings
1. Leggings With Heels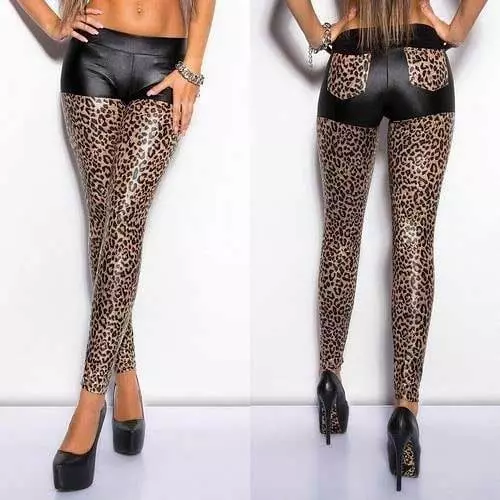 Leggings with heels might sound a little dicey to most, especially the pump ones. But printed leggings with animal motifs, floral prints, stretchable leather, and jeggings are all interesting opportunities to wear your pumps with. If the print of the legging is too loud, then go with a plain top and nude or plain pumps. Let one item pop and let your shoes underplay it – but still, steal the show.
2. Ankle Boots And Leggings
Ankle boots and leggings are a platonic combination. They look great with a plaid shirt, crop tops, ruffle tops or anything that has a little definition to it. If you are choosing leggings that stop a little above your ankle, more like the calves, be a little careful in choosing ankle booties – because they can make you look like you have bulky calves. So your safest bet would be to wear neutral or plain boots.
3. Combat Boots And Leggings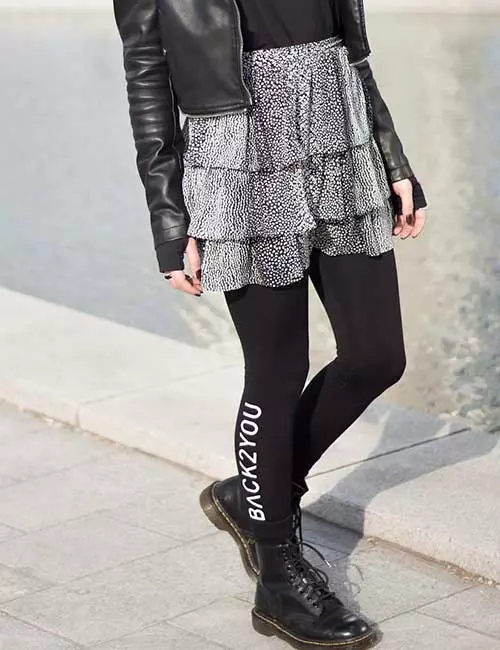 Combat boots change the entire vibe of your outfit; so, if you are in the mood for grunge, or even if combats have been your go-to anyway, bring them on. Since these are big and thick, you have scope to touch up your outfit with florals, ruffles, pastels, or anything slightly more feminine. You can wear a short denim skirt, and finish it with leggings and combat boots; or do the same thing with shorts too. Or, just go with a slip dress and throw on combats and a hat.
4. Sneakers With Leggings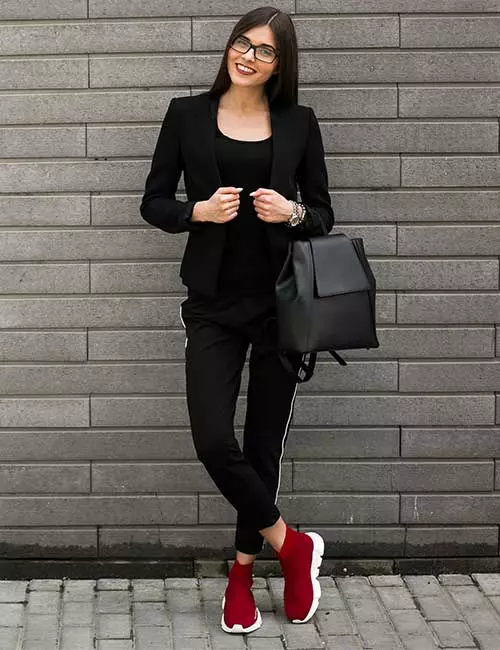 Sneakers are amazing, and I know we all live in them more than we should. The same goes with leggings too. Now, imagine bringing these two together? Life at its comfortable best. Also gone are the days when leggings only went with hoodies or oversized shirts; now, you can spin the outfit however you like. Wear a crop top, a casual blazer and red sneakers; or go with a crisp white shirt, cross body bag, and contrast color sneakers; or the usual oversized T-shirt, messy bun, and sneakers. It's all right in the hood!
5. Leggings With Sandals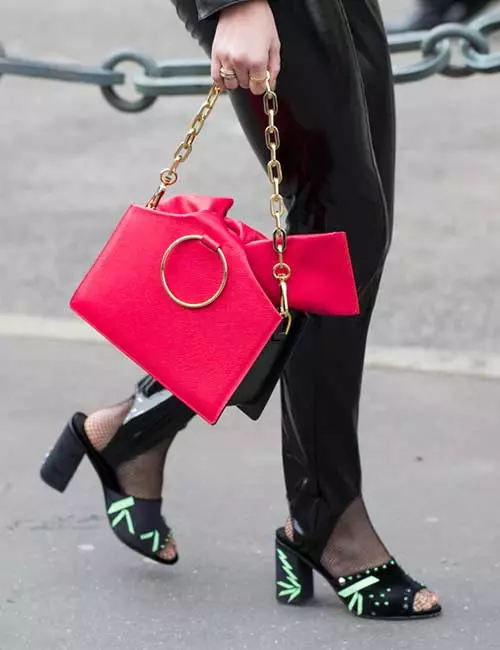 Even though heels look really stylish with leggings, some of us are just not cut out for carrying pumps. So I get it, go with ankle strap sandals that come with small block heels that keep your feet comfortable while retaining the style quotient. You can also wear gladiator sandals, and tie them from over the leggings, and wear an adorable boho top and oversized sunglasses. Carry a tote bag and look like a diva!
6. Leggings And Loafers
Talking about flats, they still look great and here's proof. But there's something you need to know – loafers, ballerinas, peep-toes or flats – whatever you choose to go with, would be better if they're plain or in a bold color. Black, dark blue or any other color that matches your legging will make for a good silhouette. If you choose regular open feet sandals and flip-flops, just suit yourself because there's no restriction there.
7. Leggings And Gym Shoes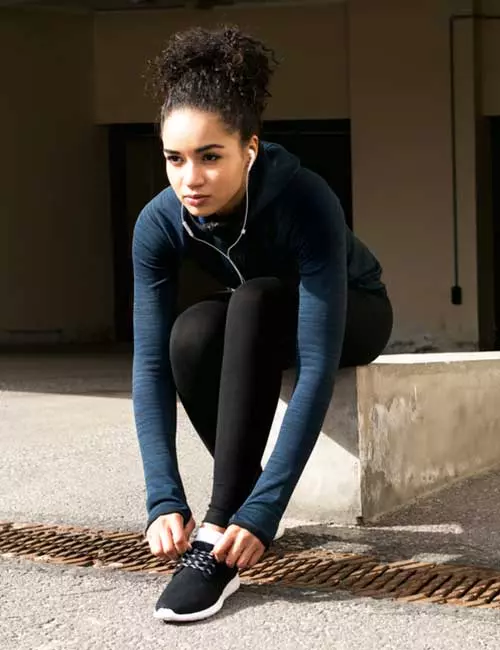 You know we all live in our yoga leggings or gym gear more than we like to admit. I do that for running errands or even for work if that sort of thing is permitted. But, if you plan to replace your gym tracks with leggings, you are allowed to, and these look great anyway. Ensure that there's no camel toe there; that's probably the only rule of thumb. There, I said it! But you know it's better to be safe than sorry. The point is, gym or tennis shoes look great with leggings.
8. Oxford Shoes And Leggings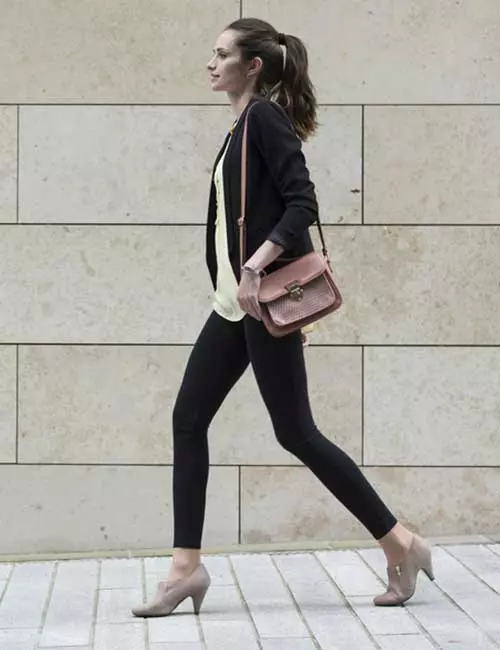 Wearing leggings and the fancy top is quite acceptable, but if you think you want to make up for all the casualness that your leggings are giving out, spruce up your outfit with accessories, and of course, shoes. Wear kitten heels or some classic Oxford shoes, and you'll be excused for everything else because it's quite a discerning choice of footwear.
9. Leggings And Converse Shoes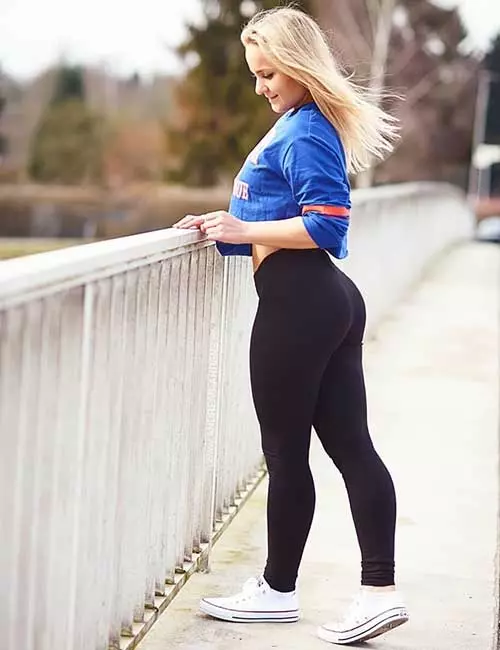 The latest heartthrob in town is white converse shoes. Everyone is suddenly raving about these and so are we. How do you know if they are meant for you? Wear it with your go-to outfit, in this case, leggings, and see how they look. That's how you approve, and that's how this look is approved.
10. Ankle Length Boots And Leggings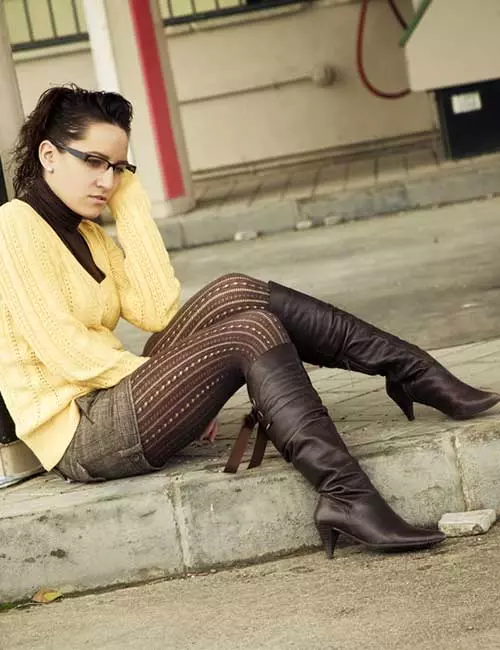 Leggings, the fleece kinds, are what we needed to go with our boots for the longest time, because, come on, we all know what a struggle it is to make boots fit over our jeans. Try leather, printed or other fancy variants and amp up your style.
Now that you know what shoes to wear with leggings, you can style and flaunt them with confidence. Whether its skinny, comfort fit, denim, or lycra, style your leggings as per your occasion and preferences and make a style statement any time. Fashionable, stylish, and comfortable, rock those pair of leggings with trendy yet comfortable shoes to go about your day or night with ease.
Frequently Asked Questions
Can you wear open toe shoes with leggings?
Yes, you can wear open toes shoes with leggings. However, take care to pair appropriate shades together.
What shoes do you wear with flared leggings?
Clogs, classic sneakers, platform shoes like mules, boots, and ankle boots pair well with flared leggings.
Can you wear tall boots with leggings?
Yes, tall boots with leggings can add an element of sophistication to the outfit.
Related
The following two tabs change content below.
Pratima Ati
After working in Marketing and Business Development for a few years, Pratima Ati jumped ship to pursue two things she… more
LATEST ARTICLES
Traditional Indian Dresses That Every Girl Can Wear
Traditional Indian Dresses That Every Girl Can Wear
20 Latest Salwar Kameez Suit Design Patterns For Women: 2022
20 Latest Salwar Kameez Suit Design Patterns For Women: 2022
What Colors Go With Brown? Tips And Outfit Ideas
What Colors Go With Brown? Tips And Outfit Ideas
8 Different Types Of Socks – Guidelines On How To Wear Them
8 Different Types Of Socks – Guidelines On How To Wear Them
How To Measure Shoe Size – A Perfect Guide With Sizing Chart
How To Measure Shoe Size – A Perfect Guide With Sizing Chart
20 Best Ways To Wear Joggers To Look Stylish
20 Best Ways To Wear Joggers To Look Stylish
9 Best Places To Donate Clothes And Do A Good Deed
9 Best Places To Donate Clothes And Do A Good Deed
How To Wear A Saree In Different Ways To Look Slim And Tall
How To Wear A Saree In Different Ways To Look Slim And Tall
20 Gorgeous Party Wear Saree Designs With Blouses For Women
20 Gorgeous Party Wear Saree Designs With Blouses For Women