Something about Latin tattoo designs drives fans to recreate it as their body art. When it comes to expressive tattoos, very few things are as edgy as words or phrases representing your personality. The selection of tattoos is never easy, and once you sit to search for it, there will be zillions of options to scroll through. You can even choose a unique phrase and style it in your tattoo. So, if you were thinking of getting a tattoo done, we are here to help. Go through these popular Latin tattoos, which can be the inspiration for your dream tattoo. Keep scrolling!
In This Article
13 Trendy And Inspirational Latin Tattoo Designs
1. Latin Quote Tattoos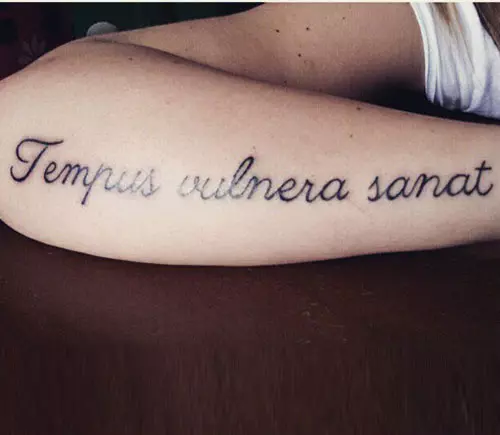 There are a plethora of quotes in the Latin language that you can choose from when getting a tattoo. Many people also go for self-written thoughts that they translate into Latin as it is more personal and unique. The quote "Tempus vulnera sanat" means "Time heals all wounds." It makes for a cool Latin quote tattoo.
2. Tattoos With Latin Words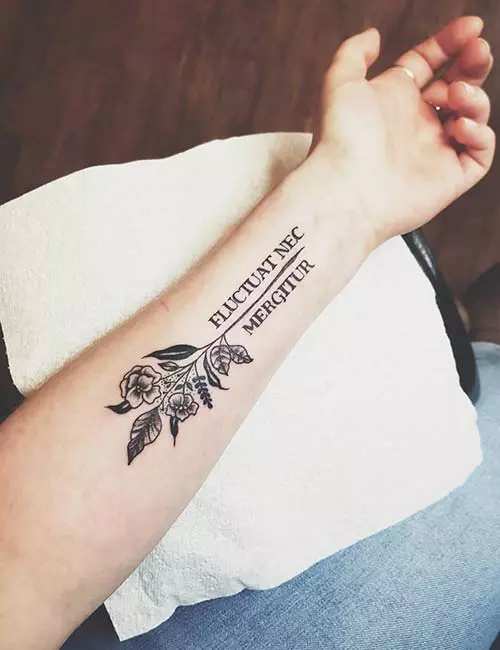 Latin words have become very popular in recent times as an option for tattoos. They are versatile, short, and can fit just about anywhere you want them. The phrase "Fluctuat nec mergitur" translates to "She is tossed by the waves but does not sink." Isn't that inspiring?
3. Latin Phrase Tattoos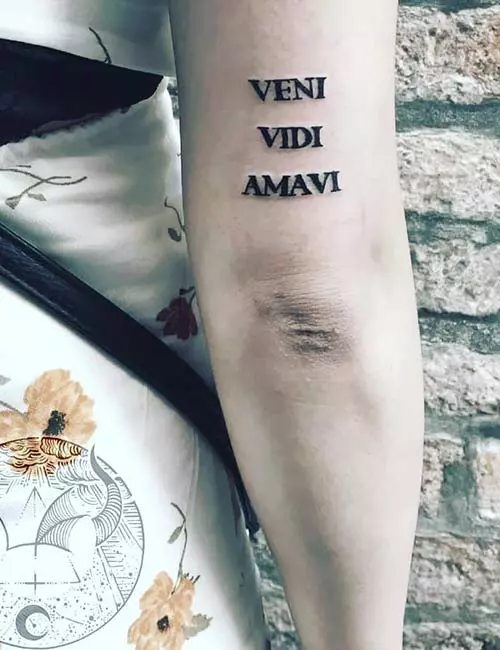 Latin phrase tattoos come in a varied range of designs and styles. These phrases are most commonly seen tattooed in calligraphy or handwritten fonts, but they look great in block text styles as well.
The Latin phrase, "Veni Vidi Amavi" means "We came. We saw. We loved." It is definitely one of our top choices for a Latin phrase tattoo.
4. Latin Skull Tattoos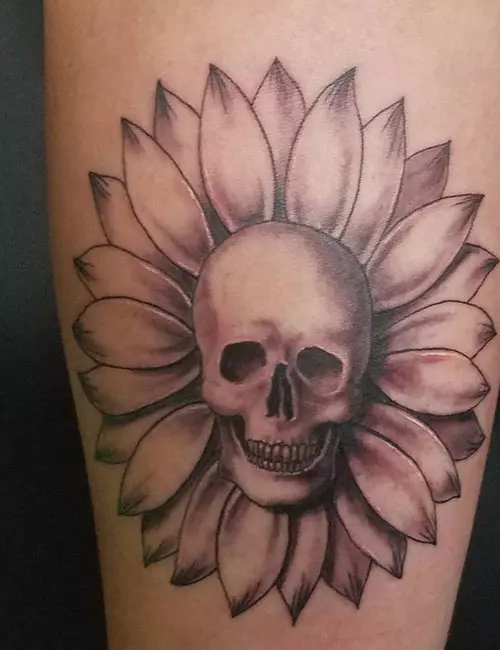 While it does look scary at first, there are various meanings behind a skull tattoo. It could represent creativity, curiosity, and the power of human life. Skulls are also used to denote strength, courage, protection, and triumph. This Latin skull tattoo features a sunflower in the background that gives off a positive vibe and seems to celebrate human life.
5. Philosophical Latin Tattoos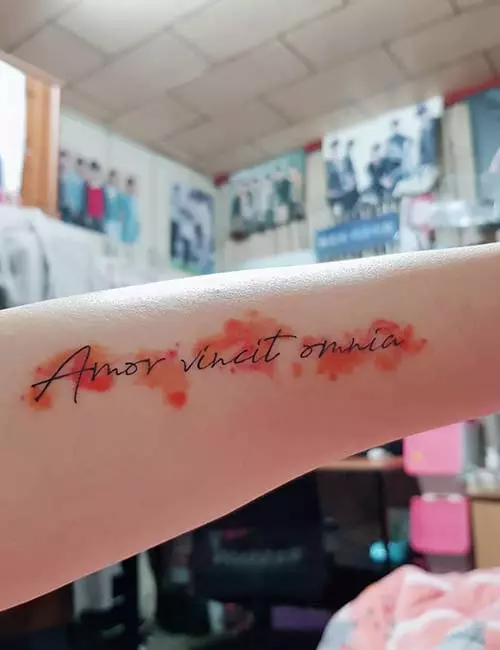 People who are deeply interested in philosophy express their thoughts through philosophical tattoos. Often, these philosophical quotes and phrases are chosen from ancient books and journals. The tattoo here says "Amor vincit omnia" which means "Love conquers all." It is a great choice for people looking to get an elegant tattoo with a pop of color.
6. Creative Latin Tattoos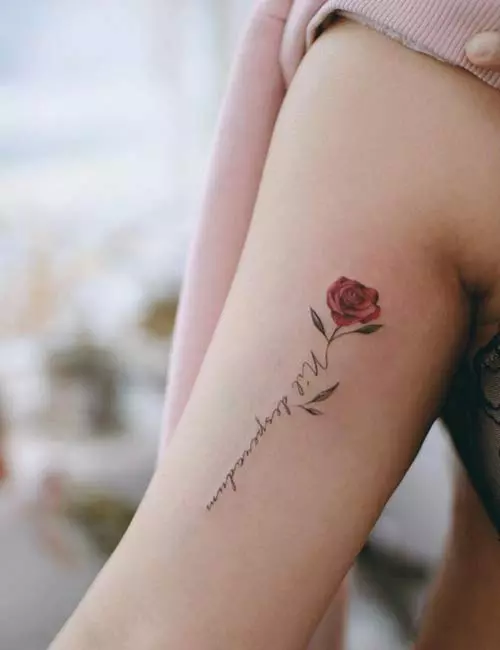 Since there is a wide variety of fonts that you can explore when getting a Latin tattoo, make sure you consult a good tattoo artist who can help you figure out the font and style that you are going for. You can also add some other elements – like the rose in this tattoo – to enhance your tattoo and reflect your personality through it.
7. Antique Latin Tattoos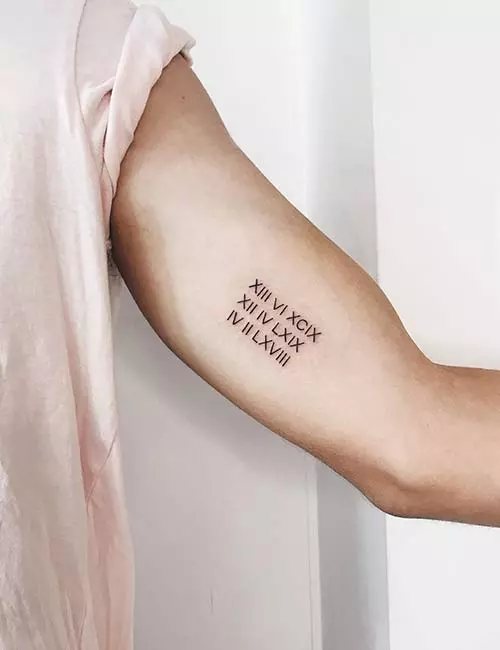 Antique Latin tattoos are all the rage right now, and they usually feature ancient numerals and lettering. Get a date that holds some sentimental value for you tattooed on your arm in Roman numerals.
8. Latin Warrior Tattoos
Many people who are inspired by historical figures go for this type of tattoo design. They get portraits of their favorite kings and queens from history tattooed on their body. Be it the original images of the individual or a design featuring their name, there are many different ways you can design such tattoos.
9. Latin Couple Tattoos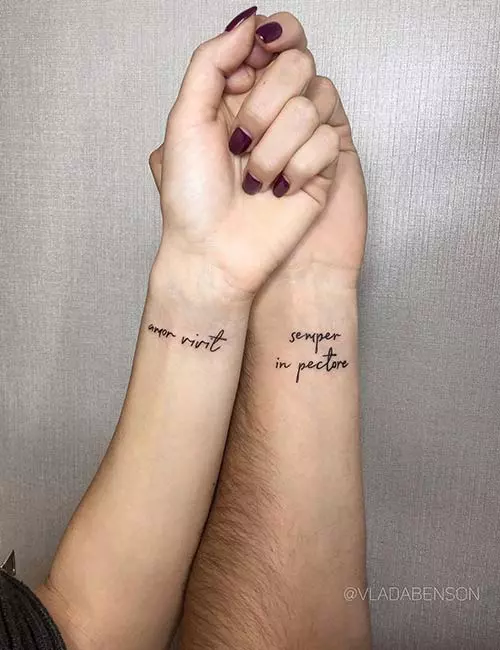 Couple tattoos have been trending for quite a while now. These couple tattoos feature the Latin quote "Amore vivit semper in pectore," which means "Love lives its life in the chest." The quote has been split in two, each half sported by each partner on the wrist. The tattoos represent their bond and relationship.
10. Latin Zodiac Tattoos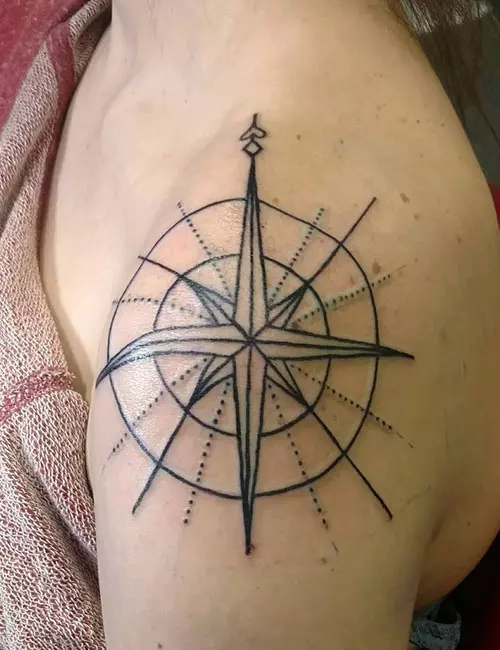 Zodiac signs done up in a Latin style are popular amongst teenagers and young adults. They look similar to the usual zodiac designs, but they are inspired by traditional Latin symbols that give them a more dramatic look.
[ Read: Best Zodiac Tattoo Designs ]
11. Badass Latin Phrases For Tattoos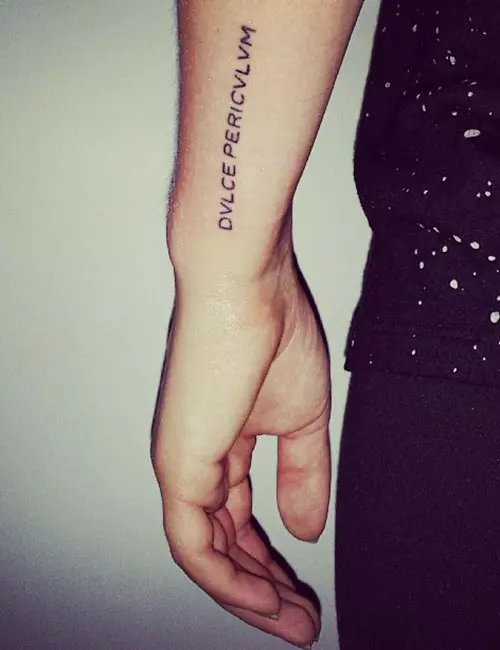 Well, this one has got to be a bit intriguing, right? There are tons of cool Latin sayings and proverbs that you can get tattooed on your body. Aquila non captat muscas (The eagle does not capture flies) and Altissima quaeque flumina minimo sono labi  (The deepest rivers flow with the least sound) are the two most popular Latin sayings that are tattooed by people.
12. Latin Wrist Tattoos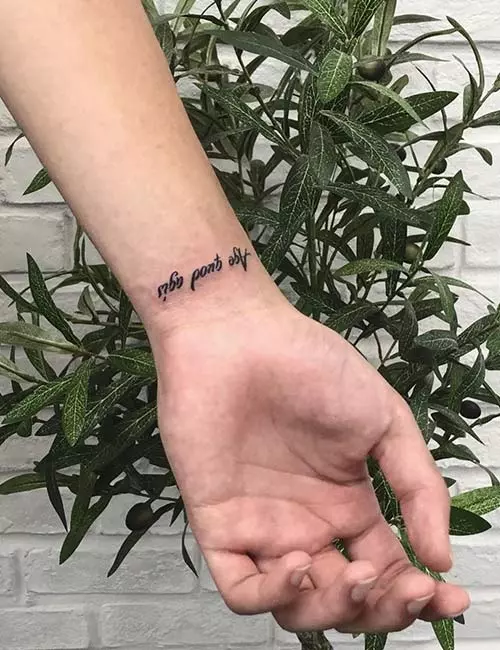 People who rock a tattoo on their wrist look very chic. The wrist is one of the most preferred areas for a Latin tattoo. The tattoo pictured above has been done in a classic font to add a vintage vibe to it.
[ Read: Best Wrist Tattoo Designs ]
13. Latin Back Tattoos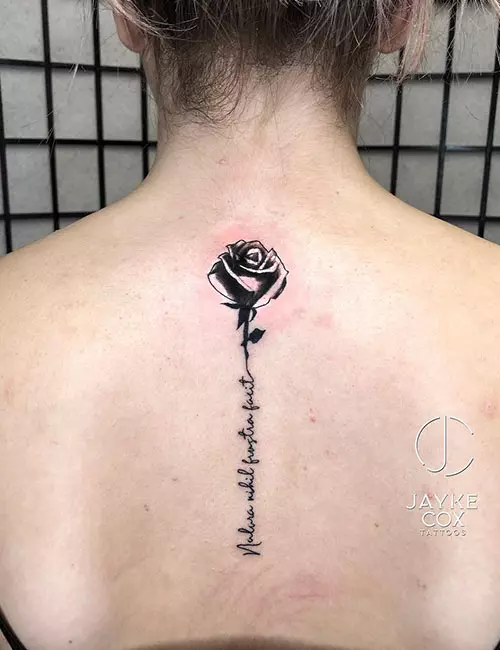 This beautiful tattoo combining a Latin phrase and a rose looks absolutely stunning. Get this tattoo done your spine to make heads turn. This tattoo is minimalistic and captivating at the same time.
Latin is one of the most ancient languages that used to be spoken across Europe during the 1st century BC. Though it is a dead language now, it still remains popular and relevant in the tattooing world. Let's take a look at some famous Latin phrases that make exceptional tattoos.
Subscribe
Popular Latin Phrases That Make Great Tattoos
Non ducor duco – "I am not led; I lead."
Castigat ridendo mores – "One corrects customs by laughing at them" or "He corrects morals by ridicule."
Carpe noctem – "Seize the night."
Dum vita est, spes est – "While there is life, there is hope."
Cogito ergo sum – "I think therefore I am."
Semper ad meliora – "Always towards better things."
Sic itur ad astra – "Thus one goes to the star" or "Such is the way to immortality."
Temet nosce – "Know thyself."
Veni, vidi, vici – "I came, I saw, I conquered."
Common Latin Tattoo Translation Mistakes That People Make
When it comes to tattoos, there are some real stinkers out there all thanks to bad designs or just a horrible tattoo artist. But then there are the misspelled words or extremely weird translations, which seem to be common in Latin tattoos.
So, what can you do to such a mistake? Here are some pointers:
Go for Latin symbols with hidden meanings that suit you best instead of phrases or quotes. You can make it more personal by adding your own twist to it.
Don't merely rely on translation apps or search engines for translations. Make sure you get in touch with a translation agency to get a precise translation to avoid any mistakes.
Make sure you know the meaning of your tattoo before you go off gallivanting on the internet to see what other people mean by that particular phrase. Each individual is unique, and so is their tattoo.
Latin Tattoo Fonts
Another important thing to remember when getting a tattoo is choosing a font that is in sync with your personality. We have scoured the internet for a few of the best options that you can go for while getting a Latin tattoo. Check them out!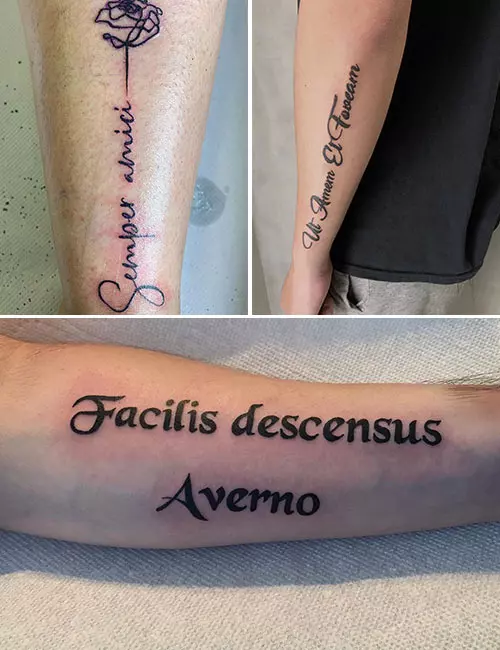 Placement Of Latin Tattoos
Tattoos are a big commitment. Hours of overthinking over what to get inked onto your skin is just the first step. Once you've made up your mind about what tattoo to get, you need to decide where to get it, because the placement of a Latin tattoo is just as crucial as it is to figure out the phrase you want to get. While your body is your canvas, you need to do figure out your own level of pain tolerance and do some research on which areas on your body hurt the most when you get a tattoo. The aesthetic appeal of the body part you want to tattoo and whether or not you want your tattoo to show are some other things you need to consider. 
Getting a tattoo is super exciting. But you need to take some serious precaution to make sure that it heals properly. Check out this article to find out how to prepare your skin before getting a tattoo and how to take care of it to ensure proper healing. 
Almost everyone in this generation enjoys and desires to have unique tattoo styles and designs inked on their bodies. Some people enjoy inking their names and favorite quotations regardless of the distinctive designs. They also look for a more distinctive writing style to help it stand out, and Latin is the most commonly used language and style for tattoos. Latin is an ancient language that appears valuable when paired with tattoo art. Latin quotes in tattoos can communicate a wide range of emotions. You can use any Latin tattoo ideas listed in this article to create a stunning aesthetic.